/
Your roof accounts for 40% of you home's curb appeal. So why not make the most of it? With the use of some of our most popular customer's choice products, you can add unsurpassed beauty and value to your home.
GAF makes it easy to customize your new roof for a one of a kind look that will last for decades. You can choose from a large color palette for seamless integration with your home's decor. Let's take a look at some of the most popular products from GAF.
Timberline Shingles
Timberline Shingles with Advanced Protection Technology are North America's number one selling shingle. As one of our top customer choice picks, it's easy to see why. As part of the Lifetime Roofing System from GAF, you know you're getting a quality product with premium performance. Choose from:
HD
Ultra HD
American Harvest
Natural Shadow
GAF also offers specialty shingles for homeowners. With the Timberline Cool Series, you can reduce heat build-up in your attic and save energy. For added protection against mother nature and the elements, the Timberline Armor Shield II shingles provide impact resistance and exceptional beauty to any home.
Ultra Premium Designer Shingles:
For uncompromising performance and timeless beauty, GAF's Ultra-Premium Designer Shingles combine gorgeous aesthetics and superior performance. These stylish and bold shingles will add value and a gorgeous visual appeal to your home.
The Camelot Shingles offer uncompromising performance and beauty at a fraction of the cost of slate or wood shakes. For a more rugged, wood shake look, the Grand Canyon Shingle makes a great choice. But, if you are looking for that ultra-dimensional look of authentic hand-cut wood shakes without the cost, the Glenwood Shingles are a great option.
Three-Tab Shingles: Performance without Sacrifice
For a more budget-focused product, GAF offers a you a Three-Tab shingle with advanced protection. You can choose from:
Marquis WeatherMax – designed for superior performance and traditional appeal
Royal Sovereign – GAF's most requested customer choice in a three tab shingle due to it's simple yet elegant design and unparalleled performance.
The three-tab shingle is the most economical product available. Considering these shingles come with a 25 – 30 year warranty, customers across the country choose these shingles to add beauty to their home without sacrificing quality or performance.
Why Choose GAF Products?
GAF has long been known for superior design that is second to none. With one of the largest inventories on the market, you are sure to find just the right color, style and design for your home in the price range you desire. Be sure to talk with your Master Elite Certified Roofer today and see what GAF can do for your home.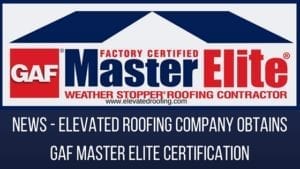 Elevated Roofing provides the GAF roof deck protection products described above. If you are looking for a Plano, Frisco, Allen, McKinney area roofing company, take a look at our website to learn about the services we offer or call (469) 305-0010 today to schedule a free roof inspection.
Roofing Repair Frisco TX
Elevated Roofing, LLC
15222 King Road, Suite 402
Frisco, Texas 75034
469-305-0010