ROOF SYSTEM – Step by Step:
1.  MARK LOCATION
An Elevated Roofing sign will be installed before the adjuster meeting and remain throughout your roof installation, alerting the insurance adjuster of the damaged location, serving as a beacon for delivery drivers and installers and notifying other contractors that your roof installation/repair is under way.
2.  MATERIAL/PROCESS REVIEW
The roof manager assigned to your project will confirm your shingle selection and color, discuss potential upgrades, implement change orders needed prior to material delivery, and review house-keeping duties and safety rules with you before we begin.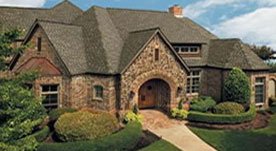 3.  PRE-INSTALLATION
We will deliver materials in your driveway near your garage (unless otherwise specified), schedule local inspections and ensure code compliance. Our Master Certified Installer oversees the entire process to guarantee compliance with our roof system.
4.  PREP WORK
We will cover your landscaping, pool, and/or decking prior to the removal of your existing roof (when needed), remove and haul off old shingles, felt paper, valley metal, drip edge, and rubber boots.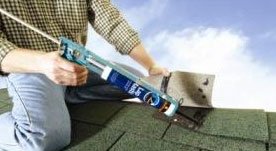 5.  FOUNDATION
The foundation of your Roof System (underlayment) is installed horizontally from one gable end to the other gable end, and never cut short.
6.  SHIELD
The Ice and Water Shield is a modified self-adhering and self-healing product designed to seal critical areas from water penetration due to wind-driven rain and water back-up resulting from ice dams. It actually swells up and reseals itself around nail penetrations; installed against exterior chimneys and in all roof valleys. New rubber boots are installed on all pipe flashing and vent pipes.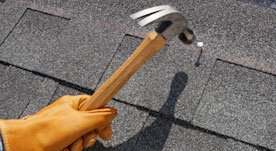 7.  SHIELD PLUS
The standard 3-tab starter row is easily unzipped and blown off a roof during high winds. Therefore, we provide a free upgrade to a GAF Starter Strip: The Secret to Improved Wind Performance.
8.  PROPERLY NAILED ROOF
Proper nailing is the key to a proven Roof System. We install pre-selected shingles according to manufacturer's instructions and code requirements, and properly nail every asphalt shingle roof system. Improperly installing nails will result in poor roof performance.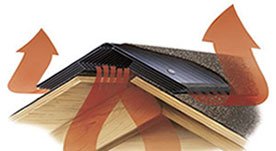 9.  CLEAN UP
Our roof installers will continue to clean the yard of roof debris throughout the roofing process. We deposit all debris into our container throughout the roof installation. We will also survey the perimeter with magnets to discover nails that are on the ground.
UPGRADES
ROOF VENTILATION (Ridge vents, soffit vents, turbine vents) Proper roof ventilation leads to longevity of shingles, while improper roof ventilation decreases life expectancy. Manufacturers' warranties are voided if the roof is not properly ventilated. This is the ideal time to upgrade your attic ventilation system. The insurance carrier does not pay for upgrades, so this would be an added expense.
Indications that your attic might have a ventilation problem include wet or compressed insulation, rusty nails or rust spots that dripped onto your insulation, blackened or buckled sheathing, mold or mildew inside your attic, curling or cracking shingles, uneven snow melt, and icicles at the roof edge. Elevated Roofing suggests using a combination of intake and exhaust vents for maximum efficiency. Please see airvent.com for more information.