The average person is probably unaware of the importance of flame retardants in commercial roofing.
There's nothing wrong with not knowing all the details about flame retardants. Commercial roofing contractors are trained to answer technical questions and explain your options.
A commercial real estate owner (and maybe a homeowner) who has a roof requiring repair or replacement will benefit by obtaining a general understanding of these critically important components.
Here is an in-depth look at flame retardants in the context of how they are used by commercial roofing contractors to protect businesses, homes and other buildings.
What are Flame Retardants? Learn from Commercial Roofing Contractors.
Flame retardants significantly reduce the impact of fires on property, people, and the surrounding environment. Flame retardants are added to materials that have the potential to be flammable.
Examples of such materials include plastics and textiles. Their purpose obviously is to prevent fire from occurring and spreading. This means they are not simply a family of chemicals. Rather, flame retardants are a specific combination of chemicals with nuanced structures and properties that work together to effectively combat the onset and spread of flames.
How Are Flame Retardants Made?
Flame retardants are comprised of elements like nitrogen, bromine, chlorine, and phosphorus. Flame retardants also include inorganic compounds. These compounds are used as a component of the flame retardant system in combination with the elements noted above or they can be used alone.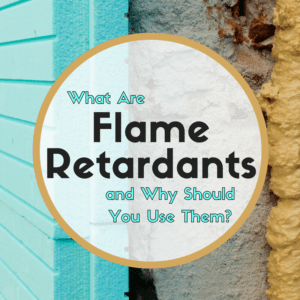 Flame retardants cannot be interchanged with one another with ease. They have specific purposes and applications so substitution proves quite challenging.
Furthermore, the unique elements within flame retardants react in a distinct manner with fire. This means flame retardants must be properly matched to each material in question.
The chemical makeup of each unique flame retardant determines if it will halt or delay a fire and how it interacts in each of the unique stages during the fire cycle.
In commercial real estate, the risk of significant loss of property and life may hinge on the use of fire retardants used by professional contractors.
Why Should You Use Flame Retardants?
All sorts of products contain flame retardants. Everything from the materials used to build the roof of your business or home to laptop computers, hair dryers, and even TVs have flame retardants.
Flame retardant use is of the utmost importance for contemporary buildings as these structures commonly house numerous electronic devices and appliances that heighten the risk of fire danger.
Fire retardants are a vitally important form of fire protection. When they are present, they dramatically reduce the risk posed by fire. Flame retardants slow the spread of flames. In some instances, flame retardants can completely stop the spread of fire.
They function by preventing ignition and boosting the threshold necessary for a fire to start. If you have any questions about how your business's roof and the surrounding commercial structure can be protected by flame retardants, do not hesitate to reach out to our commercial roofing contractors for more information.
Flame retardants act in three unique ways to halt the burning process. They stop the fire cycle's combustion stage. This includes delaying the flames, known as the "flashover", that engulf the space where the fire occurs to allow for an easier escape. Flame retardants also dilute flammable concentrations of oxygen and gases within the flame formation zone.
If these gases aren't diluted, they will cause rapid combustion. The dilution of such gases occurs with the emission of inert gases like nitrogen. Fire retardants also decrease the decomposition process by insulating sources of fuel from the material with a layer known as "char".
This topic is a bit more technical than others we have addressed in our blog. You will likely have more questions about how to work with a professional roofing contractor to protect your real estate investment or commercial property.
Allow our commercial roofing contractors to provide you with additional information about flame retardants in roofing materials.
About Elevated Roofing:
Elevated Roofing provides the assistance you need to repair roofing problems quickly and easily or provide full roof replacement. If you are looking for a Plano, Frisco, Allen, McKinney area roofing company, take a look at our website to learn about the services we offer or call (469) 305-0010 today to schedule a free roof inspection.
Elevated Roofing, LLC
15222 King Road, Suite 402
Frisco, Texas 75034
469-305-0010
SaveSave
SaveSave
SaveSave
SaveSave
SaveSave
SaveSave