Posted by:
Elevated Roofing
/
Comments Off

on How to Prevent and Assess Hail Damage to Your Roof
Homeowners in Texas are no strangers to the effects of severe weather. Torrential rainfall, high winds, and even unexpected hail storms cause millions of dollars in property damage each and every year. While any exposed property is at risk, roof damage is by far the most common result of storm-related weather events.
As much as we expect our homes to withstand the effects of severe weather, storm damage is simply a fact of life. Before and after any storm, homeowners need to be diligent in their efforts to both protect their homes and assess the condition of their roof after a storm.
There are several steps you can take to safeguard your roof against hail and the consequential damage and repairs. Though it is not advisable to get up on the roof and perform risky DIY preventative measures, it is still possible to be proactive in the quest to prevent nasty hail damage. The first step is to reach out to roofing experts.
Lean on Roofing Professionals
The last thing you should do is climb up on your roof and attempt repairs and preventative maintenance on your own. Reach out to the roofing professionals for a comprehensive roof analysis, repair and implementation of preventative measures to guard against hail damage. Though it is impossible to completely safeguard your roof against a nasty hail storm, leaning on the professionals to safeguard your roof will drastically reduce the odds of hail damage.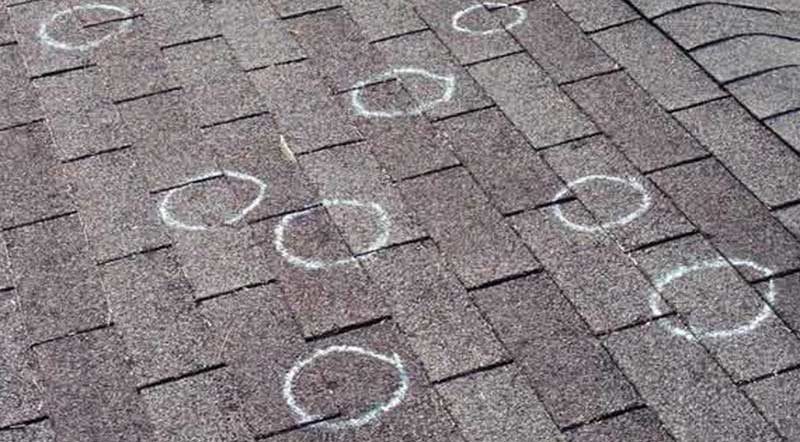 While assessing roof damage after a storm might be as simple as a quick perimeter check and a casual inspection from ground level, a more thorough examination will be necessary to ensure that no problem areas have been overlooked. We urge homeowners to stay safe and rely on roofing professionals to perform these detailed inspections.
True roofing gurus will perform an in-depth inspection and analysis of your flashing and other roof elements to ensure that hail has not and will inflict extensive damage in the future. Roof flashing that is flawed in any way will be susceptible to penetration. Roofing experts will perform the necessary repairs and greatly reduce the odds of a hail storm creating significant problems that end up eating away at your savings and patience.
Although most roof damage might be immediately evident, some potential issues will be difficult to detect. This is especially true in the case of damage caused by hail storms.
Signs of Trouble
The impact of hailstones will often damage the protective layer found on asphalt shingles, and as a result, the affected shingles will begin to deteriorate more rapidly. When these issues go unchecked, problems may not be evident for weeks, months, or even years down the road.
Additionally, If your roof has missing, curled or compromised shingles, your roof is prone to extensive damage. Take a look at your siding. If there are any compromised points that could fly off during a storm, have them repaired right away. Be sure to clean out the gutters and downspouts of debris from time to time as well.
Mind Those Trees and Shrubs
Property owners tend to let their trees and shrubs grow to the point that they touch the home. After all, trimming shrubs and overgrown tree limbs takes work, time and money. These landscaping features become problematic when they contact the roof. Wayward tree limbs really can damage your roof. They also serve as bridges for squirrels and insects to crawl from trees to your rooftop and cause damage. Some will even transform your roof into a makeshift home until they can find an opening and move on in. So trim those trees and shrubs as soon as you notice them extending out toward your home. If you notice any dead limbs, remove them right away.
Batten Down the Hatches!
Check your doors and windows to ensure they are completely secure. If strong winds and/or a hail storm occur, these forces could blow the windows and doors right off their hinges. Reinforce your garage door's weak points with metal stiffeners as well. Blown-off doors, window frames and other components have the potential to inflict extensive damage on the roof.

The Roof Material Matters
Hail can rain down on roofs at speeds upwards of 100 mph. This makes roofs highly susceptible to cracks, dents and other damage. If your roof is nearing the end of its lifespan or if you are dissatisfied with its appearance or quality, consider having a new impact-resistance roof installed. A roof made of asphalt shingles or stainless steel can withstand a hail storm much better than roofs made with other materials.
Modified asphalt shingles hold up particularly well during hail storms as they are made with a unique rubber compound. Slate roofs are a bit costly yet they can last upwards of a century. Concrete is quite durable against hail storms. It will likely last two decades and emerge unscathed after powerful hail rains down.
What happens if a damaging storm comes through?
In the event of an unfortunate storm, the following checklist will help Texas residents to assess the condition of their roof and take the steps necessary to expedite repairs.
During any visual inspection, homeowners should always photograph and document any damaged areas, whether on the roof or in other areas of the home.
Initial Inspection – Homeowner
Check for immediate evidence of water damage inside the home, by inspecting attic spaces, ceilings, and overhead light fixtures.
Walk the perimeter and look for visual signs of damage:
Broken tree limbs and debris on the roof and surrounding structures.
Limbs and other objects that may have caused obvious structural damage to the roof.
Large sections of shingles torn from the roof by high winds.
Missing, torn, or cracked shingles.
Shingles around the perimeter of the home.
Granules from damaged shingles collected in gutters, around downspouts, and around the foundation area.
Dents and pock marks in flashing, vent caps, and gutters.
Dents or dark spots on intact shingles.
Contact Your Homeowner's Insurance Provider:
Contact your provider as soon as there is evidence of any property damage.
Organize notes and photographs from your personal inspection.
Schedule an onsite inspection with your Insurance Provider's Adjuster.
Contact A Local Roofing Professional:
Contact a trusted, local roofing contractor to meet with your adjuster during the scheduled inspection.
Based on the final inspection, secure bids to perform the necessary repair work on your roof.
Often times homeowners prefer to have their roof inspected prior to contacting their insurance company and any quality local roofing company such as Elevated Roofing would be more than happy to assist with a preliminary roof inspection.
We understand the emotional and financial stress that will result from a tragic weather event. If you've been the victim of storm damage, we encourage you to contact us immediately and schedule a no-cost inspection to assess the condition of your roof. Once our qualified technicians have made an accurate determination of what repairs will be necessary to return your roof to its original condition, we will be able to offer a professional estimate to complete the repairs.
Get your free consultation today
We are one of the top premier roofing companies in the DFW area, with over 40 years of experience. As such, we take great pride in using the highest quality materials for all of our repair and installation projects. We have spent the past 20+ years building on our reputation as a leader in the residential roofing industry by ensuring each and every client receives the highest level of customer service and workmanship possible.
About Elevated Roofing:
Elevated Roofing provides the assistance you need to repair roofing problems quickly and easily or provide full roof replacement. If you are looking for a Plano, Frisco, Allen, McKinney area roofing company, take a look at our website to learn about the services we offer or call (469) 305-0010 today to schedule a free roof inspection.
Elevated Roofing, LLC
15222 King Road, Suite 402
Frisco, Texas 75034
469-305-0010
Article updated October 4, 2020.