If you are planning to sell your home, you should also consider a thorough roof inspection and roof estimate before placing your home on the market. In any case, buyers want to know what they may be facing once they take possession. Roof uncertainties have caused cancellations of sales contracts since no one wants unexpected roof repairs soon after the deal closes.
Roofs are among those home components that we ignore until disaster strikes. However, shingles blown off in high winds or the drip, drip, drip of a leaking ceiling will send you on a search for the first available roof repair expert.
Have a roof estimate on hand before determining your selling price.
How You Can Prevent a Sales Contract Cancellation
When purchasing a home, buyers naturally must have confidence in the condition of the roof. If repairs are necessary within the first years, the buyer should know how big the job will be. Uncertainty can be a deal breaker. A solid roof estimate in hand from a reputable roofing company can be sufficient to instill that confidence.
To assuage buyers' fears about roofing conditions, having a certified roofing contractor perform a detailed inspection and provide a roof estimate before the listing is the best strategy. By doing this, you demonstrate to the buyer what may need to be done and what the cost could be. Open disclosure supports your integrity.
Building the roof estimate into your selling price allows you to
Repair the roof before closing, so you to receive full price.
Allow a cost reduction of a similar amount for the buyer to do the job later.
Is It Better to Fix the Roof First Before Trying to Sell?
Unless the home is being marketed as a tear-down, significant roof damage should be repaired before trying to sell.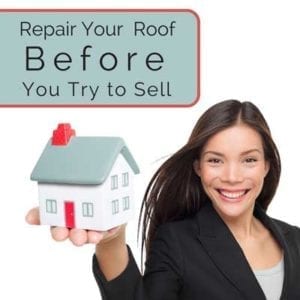 Fixing a heavily damaged roof is of particular importance if you hope to sell fairly quickly. Prospective buyers look warily at heavily damaged roofs and are more likely to walk away. Loss of too many potential buyers results in many more weeks and months on the market which means you either drop your price or fix the roof. Future buyers will always lead with the question, "Why has this home been on the market for over six months in a healthy market?" The answer will be obvious.
Even fixer-upper buyers and home "flippers" prefer only minor repairs and renovations.
No matter how you do the math, you probably will not get 100% return on your repair or replacement cost. Remodeling Magazine in 2013 reported that owners would likely only receive about 53% back from a full roof replacement and perhaps 61.7% on minor roof repairs. However, the net return on those expenses depends upon how realistic your starting selling price happens to be.
Have a Roof Inspection Performed and Roof Estimate to Avoid Surprises
Between disclosure requirements and the buyer's inspection, a home seller should avoid the conflict and legal issues of trying to hide shortcomings. The best solution is to be aware of all problems and either fix them before closing or offer an allowance to compensate the buyer for repair.
With a thorough professional roof inspection before listing, the roofing company may be able to certify that the roof is safe for at least five years, for example. This type of assurance should be sufficient for the buyer to proceed with the purchase.
Similarly, if your roofing company finds that repairs are needed, do them. You can recoup much of the expense with a quicker same and a somewhat higher price.
About Elevated Roofing:
Elevated Roofing provides the assistance you need to repair roofing problems quickly and easily or provide full roof replacement. If you are looking for a Plano, Frisco, Allen, McKinney area roofing company, take a look at our website to learn about the services we offer or call (469) 305-0010 today to schedule a free roof inspection.
Roofing Repair Frisco TX
Elevated Roofing, LLC
15222 King Road, Suite 402
Frisco, Texas 75034
469-305-0010