Posted by:
Elevated Roofing
/
Comments Off

on Basic Types of Home Roofing Materials
The material you select for your roof plays a part in the structure's lifespan, look and cost. This is not a decision to take lightly. If you are in the market for a roof update, replacement or a brand new home, seize this opportunity to pinpoint exactly the right type of roof for your nuanced needs and desires. When in doubt, reach out to the experts for guidance.
Home Roof Materials: Asphalt Shingles
Asphalt shingles are the most popular roofing material for good reason. They are affordable and do not take long to install. It is also possible to reinforce asphalt shingles with fiberglass or cellulose without altering their aesthetic. Asphalt is available in an array of colors. Its only drawbacks are a comparably short lifespan and slightly inferior insulation.
Metal Roofing
Metal roofs can withstand harsh weather and remain intact. This roofing material is available in shingle or panel form. Buyers select from aluminum, stainless steel, copper or zinc. The appeal of this home roofing material extends beyond its durability. This is a smooth-looking material that is light, recyclable and allows for rainwater harvesting. If you own a cottage-style home, cabin, contemporary home or bungalow home, a metal roof is worth serious consideration.
Wood
Wood and shake roofs have been en vogue for centuries. Homeowners far and wide adore the wood aesthetic. Wood eventually weathers to a grey hue that is easy on the eyes. If you are worried about the risk of fire, opt for Class A fire-prone wood with shingles laden with a fire-resistant coating. The typical wood roof lasts about three decades. This material is perfect for Tudor homes, cottages, bungalows, Craftsman homes and Cape Cods.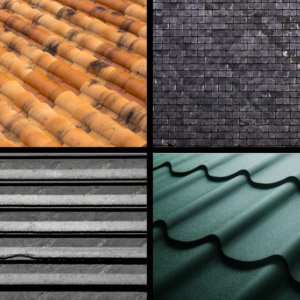 Green Roofs
As time progresses, more homeowners are opting for eco-friendly roofs. These roofs minimize heat absorption to keep air conditioning bills low. They send oxygen back into the surrounding environment, spur plant growth, absorb rain and provide thermal insulation to the structure below. This is made possible by layering the roof with a specialized waterproof barrier referred to as a "membrane". Combine this membrane with adequate drainage and you have a legitimate green roof. They also provide a rigid barrier that reduces the odds of a leak. Solar roofs are distinct from other green roofs yet provide similar benefits.
Concrete and Clay
These tiles boost the roof's visual appeal and add extra texture. Clay tiles are incredibly rigid and heavy, regardless of whether they are the scalloped, ribbed or genuine flat. They will stand the test of time with ease.
The concrete variety is more affordable, energy-efficient and versatile compared to clay. Both varieties of home roofing material are non-combustible yet they are fairly expensive. Concrete and clay tiles often require extra framing by your roofing professionals. If you have a Spanish, Mediterranean or Southwestern-style home, concrete or clay tiles will complement the existing aesthetic.
Slate
Have a slate roof installed and it will boost your home's curb appeal. Slate hues include various shades of green, black, purple and red. Aside from improving your home's look, a slate roof will also last longer than most other roof types. However, this home roofing material is fairly costly, quite heavy and necessitates extra framing.
Synthetic Roof
Synthetic materials like plastic, rubber and polymer are now being used for roofs. The benefit of investing in a synthetic roof is that it provides the exact style, color and texture you desire. Synthetic roofs often duplicate the look of wood and slate roofs. They are extremely user-friendly as they require little maintenance and are quite durable. Certain synthetic roofing materials are even fire-resistant.
About Elevated Roofing:
Elevated Roofing provides the assistance you need to repair roofing problems quickly and easily or provide full roof replacement. If you are looking for a Plano, Frisco, Allen, McKinney area roofing company, take a look at our website to learn about the services we offer or call (469) 305-0010 today to schedule a free roof inspection.
Elevated Roofing, LLC
15222 King Road, Suite 402
Frisco, Texas 75034
469-305-0010