All homeowners dread roof problems. An issue with your roof has the potential to damage everything below and eat away at your savings, causing plenty of grief along the way. The best thing to keep in mind is that you are not completely powerless when something goes wrong with your roof. An emergency roof repair can hold the tide long enough to perform a roof repair or replacement that should last for years.

Contact Elevated Roofing for 24/7 Emergency Tarping and Roof Repair
Has your roof been badly damaged in a storm? You can rely on Elevated Roofing to implement emergency roof repairs until a full roof repair or replacement can be completed. We provide 24/7 emergency tarping and roof repair services. Call us at (469) 305-0010 to get help now.

Get Emergency Roof Repair »
When in Doubt, Resort to Tarping
Tarping is by far the best means of preventing additional roof damage. Elevated Roofing is proud to provide timely tarping services. This is one example of what sets us apart from the rest of the pack. If you are hesitant to have tarping applied to your roof, rest easy. Our roofing professionals know exactly how to apply tarping so it does not compromise your roof.
In most instances, insurance companies will reimburse homeowners who call a professional roofer to have tarping applied. Tarping really does mitigate damage to an already-compromised roof. Even if your insurance company refuses to reimburse you for the tarp, the cost of such a temporary solution is almost always cheaper than the expense caused by additional damage if the roof is left unprotected from future weather events.
Tarping a roof is something that should be left to the professionals. Applying tarping in a DIY (do it yourself) fashion is a major mistake. It is both difficult and dangerous to get up on the roof and cover the compromised section with a tarp. This is especially true during rainstorms, windstorms, and other inclement weather. The best DIY application is to tarp or use another material in your attic to catch the water until one of our professionals arrives for a more thorough tarp application and subsequent repair.
Yes, tarps can be unsightly but the added protection from potentially damaging weather is necessary.
A Brief Look at Emergency Roof Repairs
A compromised roof will endure water filtration that eventually results in a leak. Structural and interior damage can be mitigated with the application of a protective cover. Lean on our team to apply an emergency tarp to the damaged section until a repair can be made. Put your faith in our residential roofing experts to accurately diagnose the problem and come up with the proper repair that will stand the test of time.
Common causes of emergency roof repairs include: 
Fire damage

Wayward or fallen tree limbs

Lightning strikes

Presence of unwanted animals or insects

Strong winds 
Tornados and hurricanes especially can tear shingles away from the roof, leaving the substrate exposed to the elements. All roof repairs should be considered urgent, as compared to most other home repair and upgrade projects but some roof jobs will be more urgent than others. 
What Roof Repair Would Qualify as an Emergency?
Roof repairs in general should be higher priority than normal home repairs as a roof in disrepair can lead to major leaks, mold, and could compromise the structural integrity of your home. Here are a few examples you can use as a guide for emergency roof repair.
If the damage you roof has experienced has caused your home's interior or attic space to be exposed to the elements, this would qualify as a roofing emergency.

If a severe leak occurs due to roof damage, this could end up causing a structural hazard and should be looked at right away to prevent further damage.
If a large area of shingles is missing, you need to call for an emergency roof repair. Strong winds are known to cause this kind of damage. A missing shingle here and there would not usually be considered an emergency but should be looked by a professional to assess possible unseen or expected damage.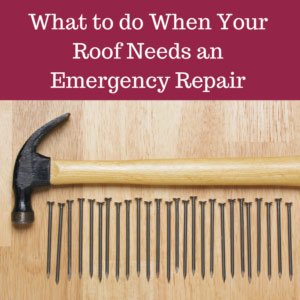 What to do When Your Roof Needs an Emergency Repair
You will be incredibly stressed out after learning of your roof damage. Remain calm and call our roofing experts. As soon after the damage as possible, contact your insurance provider to report the damage.  The insurance company will send out an adjuster who will review the damage and determine how much the claim is worth. Our team will show up as quickly as possible to secure the damaged portion of the roof with tarping. However, it might take some time for our team to arrive as we will not jeopardize the safety of our roofers during violent storms.
If the emergency roof repair is due to damage from a falling tree, a fire, hail or storm, or another type of event, then our professionals will be dispatched as soon as possible.
Do not attempt to remedy the roof by yourself. You might be injured when climbing the ladder, traversing the roof or attempting to cover the damaged section. Leave this difficult job to the professionals at Elevated Roofing. Try to document the damaged area with photographs and a written description once the weather has settled down. Forward this documentation to your insurance provider for clear communication.
Emergency Repairs for Flat Roofs
The approach to conducting an emergency flat roof repair is different from that applied to pitched roofs. In some instances, it is possible to perform an emergency roof repair to a flat roof in the midst of a storm. A specialized sealing compound is applied to the leak as a temporary patch. This compound won't interfere with the flat roof's functionality after the storm clears. Our team will perform an in-depth repair when the weather settles down.
The most important thing to do when you are facing a roofing emergency is not to panic. It is also very important that you not try to repair the damage yourself, especially in the middle of a nasty storm. When in doubt, contact Elevated Roofing for your roof repair service.
Choose a Licensed Contractor
When choosing a roofing contractor for your repairs, be sure to choose one that is licensed and insured. There are "storm chaser" individuals that prey on homeowners after severe weather events. These companies who appear in neighborhoods to try to convince homeowners to use them for repairs are highly untrustworthy.
Often, the repairs are either sub-par or the company requires a large deposit before the work begins. Once they receive it, they leave the area and never perform the work. Make sure to get references from any company you choose and ask them for proof that they are licensed as well as insured. Your home is likely your biggest asset so you want it to be in good hands. 
About Elevated Roofing's Emergency Service
Elevated Roofing provides the assistance you need to repair roofing problems quickly and easily or provide full roof replacement. If you are looking for a Plano, Frisco, Allen, McKinney area roofing company, take a look at our website to learn about the services we offer or call (469) 305-0010 today to schedule a free roof inspection.
Roofing Repair Frisco TX
Elevated Roofing, LLC
15222 King Road, Suite 402
Frisco, Texas 75034
(469) 305-0010