When it comes to your roof, you should not take any chances. Your roof is all that stands between mother nature and your loved ones as well as your possessions. If your roof needs repairs or replacement, it is important to ally with an insured and licensed, professional roofing company. You may be asking yourself, "Don't roofers need to be licensed in Texas?" The answer is actually no. But, why would you want to work with a company that is not? We explain why this is important below.

So, Do Roofers Need to Be Licensed in Texas?
No, roofing contractors do not need a license in Texas. Currently, the Texas Department of Licensing & Regulation does not administer licensure for roofing contractors. In addition, roofing contractors do not even need to have insurance or register with the state.
Therefore, anyone in Texas can call themselves a roofing contractor. It is not uncommon for self-proclaimed roofing contractors to stay active throughout the year even though they have not obtained a license.
Why Is It Important to Hire an Insured and Licensed Roofing Contractor?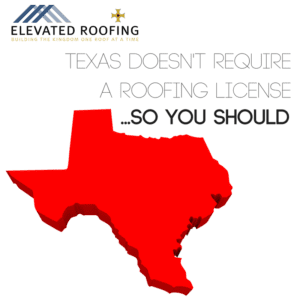 License
Licensed roofing contractors are somewhat of a rarity, making their work that much more valuable. A roofing company that has held a license for several years and carries the appropriate insurance has credibility. These are signs that the contractor meets the standards of a legitimate roofing business.
The truth is that licensed contractors care a great deal about their customers, their work quality and their reputation. More importantly, working with a licensed roofing contractor gives you a course of action in the event that things go wrong with your roofing project. Asking about a contractor's license is one of the top 10 questions to ask before hiring a roofing contractor.
Insurance
Individuals who own insured roofing companies have a vested interest in the safety of their workforce and your property. In the event of an unfortunate accident, their insurance rates will spike. Because of this, they ensure that their team has the necessary safety knowledge and training procedures to minimize the odds of an accident.
Additionally, you can better trust a company to operate on your property when it has enough insurance coverage to pay for the expenses associated with accidents. Should a situation occur during the roofing project, the contractor's general liability and workers' compensation insurance will cover your actual property and home. You do not want to be responsible for accident costs.
Beware of Roofers Without a License or Insurance
Amateur roofers will do just about anything to win your business. They will offer rock bottom prices, lofty promises and make grandiose claims about the quality of their work. However, take a moment to consider the types of people you will be doing business with when you ally with an unlicensed group that allegedly understands the intricacies of roof repairs and replacements.
Are you really willing to let any handyman with a pick-up truck work on your home's most important component? Such unlicensed contractors are not qualified to perform quality roof work. Some may not have any idea about how to complete a proper roof repair. Many are simply desperate for money. The bottom line is that it is not prudent to hire an individual or group who is not serious about the profession.
Elevated Roofing Is the Trustworthy Roofing Contractor You Need
At Elevated Roofing, we have gone beyond obtaining a license and the proper insurance coverage. Our business is a 2-Star President's Club Member – Master Elite™ Contractor for GAF. We are one of only a handful of companies in the metroplex with this status. Additionally, only about two percent of roofing contractors in North America have Master Elite™ status.
We have also obtained a Roofing Contractors Association of Texas (RCAT) license. Elevated Roofing has a $10M insurance policy which includes workers' compensation. This is the best you will find in the metroplex and means that you will not be liable if there is an accident on the scene.
We stand behind our workmanship and have more than 600 5-star reviews on Google to prove it. We have also won recent awards from GAF for our performance, reliability and service to our clients.
When you hire Elevated Roofing for your roof repair or replacement, you will rest easy knowing that true professionals are working on your home. Contact us online or call us at (469) 305-0010 to learn more about our residential roofing services.