If you suspect your roof requires a repair of any sort, it is sensible to have this project completed in the winter. On the surface, this statement seems a bit odd as winter conditions can be harsh. However, once you do some digging into residential roof repairs, you will find it beneficial to have the work done during the winter. Here is a look at why roof repairs should be performed between October and March.
1. Benefit from the Fact That the Winter is the Roofing Slow Season
Most roofers are incredibly busy during the summer, spring and fall. If you hire an inexperienced, lazy or incompetent roofer, there is a good chance mistakes will be made during the busiest months of the year. Even some high-quality roofers are more likely to make mistakes or look over small details when they are extremely busy.
Alternatively, residential roof repairs performed in the winter will likely be done to perfection. This is attributable to the fact that roofers can give their full focus and manpower to winter repair projects as they are often few and far between.
2. Do Not Give Your Roof Leak a Chance to Worsen
Roof leaks of every size should be tended to as quickly as possible. If your roof leak is not remedied in a timely manner, it will gradually worsen to the point that it can cause significant damage to everything below.
When temperatures dip it causes an expansion and subsequent contraction of the roof, worsening leaks. The last thing you need is for costly water damage and/or mold throughout your home.
Have your roof repaired in the winter and you will guarantee your family remains warm and dry throughout the entirety of the season.
3. Winter Residential Roof Repair Will Save You Money
The price of roofing materials increases when the warm weather arrives. The price hovers in this elevated range until the end of autumn. Once winter hits and demand decreases the prices of roofing materials follows suit. Schedule your residential roof repair or installation during the winter and you won't have to worry about paying a comparably high price for the necessary materials.
If you are wondering why prices increase in the warm months, do not assume roofers are to blame! Roof material suppliers hike prices with demand, causing roofing professionals to bump up their project costs to stay in business.
4. Roof Damage Leaves Your Property Exposed to Winter's Wrath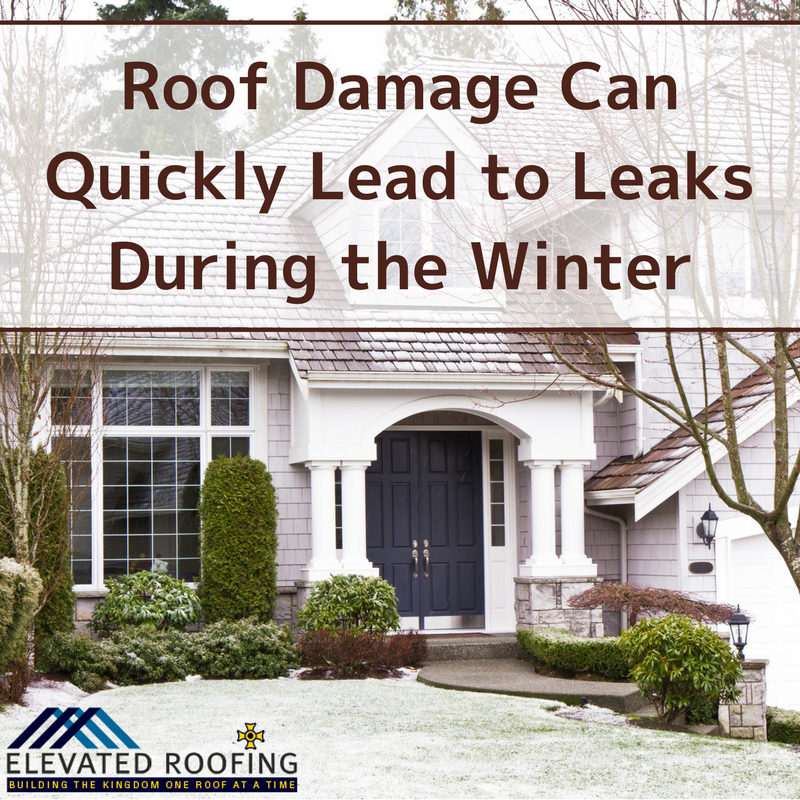 It seems that snow is possible in just about every part of the country nowadays. Even Texas has received snow this winter. Snow buildup can damage your roof in multiple ways, especially if there is already existing damage.
Winter storms bring harsh winds, the potential for ice accumulation and low temperatures. Each poses a significant threat to the integrity of your roof. If your roof's shingles are damaged, loose or missing, your property will lack the necessary protection to survive the winter.
5. Some Roofers Look Forward to Winter Repairs
The winter conditions do not prevent roofers from doing their job. All sorts of different roof repairs can be performed, even if the temperatures have dipped down low and the winds are fierce. In fact, certain roofers are completely comfortable performing this work during the winter months, as the summer heat in Dallas can prove deadly.
Do not assume requesting winter residential roof repairs will put your roofing contractor in an awkward position. The bottom line is, quality roofers are prepared for work year-round.
About Elevated Roofing:
Elevated Roofing provides the assistance you need to repair roofing problems quickly and easily or provide full roof replacement. If you are looking for a Plano, Frisco, Allen, McKinney area roofing company, take a look at our website to learn about the services we offer or call (469) 305-0010 today to schedule a free roof inspection.
Roofing Repair Frisco TX
Elevated Roofing, LLC
15222 King Road, Suite 402
Frisco, Texas 75034
469-305-0010