Posted by:
Elevated Roofing
/
Comments Off

on 3 Types of Roofing Services Homeowners Forget About
When it comes to roofs, most homeowners think about leaks, broken shingles and massive replacement projects. Yet there is much more to roofing than these problems and procedures. Additional roofing services are actually quite important to your roof's integrity and longevity.
Emergency Response Services
If an emergency strikes, the condition of your roof is of the utmost importance. Our roofing experts have the skills, equipment and know-how necessary to prepare roofs for harsh conditions. We provide a measured and prompt response to emergencies. Our team knows exactly how to handle severe weather of every variety, whether it is hail, sleet, harsh rain or violent winds.
Lean on us when an emergency strikes and we will do everything in our power to maintain the integrity of your roof. We will send out technicians as soon as it is safe to do so. Our mission is to keep your roof in tip-top shape, prevent damage to your property and surpass your expectations.
It is important to note that homeowners are not completely powerless against nasty weather. Regular roof maintenance will increase the odds that your roof emerges from the violent weather without extensive damage. Have one of our roofing gurus inspect your roof at least once a year to identify weak points and other problems that can be remedied to reinforce structural integrity. However, even the best roofs are susceptible to damage from storms. Contact our roofing service following the emergency and our crews will inspect your roof's condition, assess the damage and perform emergency repairs without delay.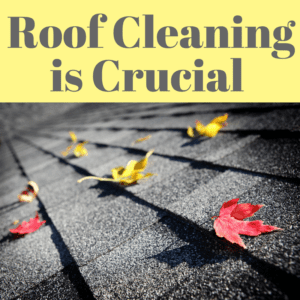 Roof cleaning
Your roof needs to be cleaned just like your home's siding, doors and windows. A clean roof looks much more appealing than one laden with dirt and grime. It is also possible to cap off a thorough roof clean with biocides that minimize mold and algae growth.
Keeping your roof clean is not all about aesthetics. A spotless roof also provides functionality by decreasing the surface temperature to extend the structure's useful life. A clean roof even reduces energy needs, saving you a tidy sum of money in the process. The decreased surface temperature allows for cooler air to be sucked in by your home's HVAC system. As a result, less cooling is necessary. After all, upwards of 30 percent of your home's heat is absorbed through the roof.
Cleaning also provides the latent benefit of providing the opportunity to identify necessary repairs while up on the roof. A regular cleaning and sealing reduces growth/dirt accumulation, making subsequent cleanings that much easier. It is prudent to have your roof cleaned at least once per year.
Preventative Maintenance
Many homeowners overlook preventative maintenance and simply react to roof problems once they rear their ugly heads. This is a grave mistake! Think of your roof as an incredibly important investment that has the potential to provide spectacular returns across the long haul.
Have a roofing service perform preventative maintenance on an annual basis and after storms pass through. A professional roofer will inspect your roof's condition and identify areas for repair. He will remove debris, clear drains for water to flow freely and perform an extensive assessment of the structure. Timely repairs will prevent minor issues from spiraling into much larger projects. This preventative maintenance will extend the life of your roof and save you plenty of money across posterity.
Elevated Roofing Sweats the Small Stuff so You Don't Have To
Our roofing service tends to all the subtleties outlined above and then some. Reach out to us today to find out more about our services, obtain a quote and schedule an appointment.
About Elevated Roofing:
Elevated Roofing provides the assistance you need to repair roofing problems quickly and easily or provide full roof replacement. If you are looking for a Plano, Frisco, Allen, McKinney area roofing company, take a look at our website to learn about the services we offer or call (469) 305-0010 today to schedule a free roof inspection.
Roofing Repair Frisco TX
Elevated Roofing, LLC
15222 King Road, Suite 402
Frisco, Texas 75034
469-305-0010